Tecera Worldwide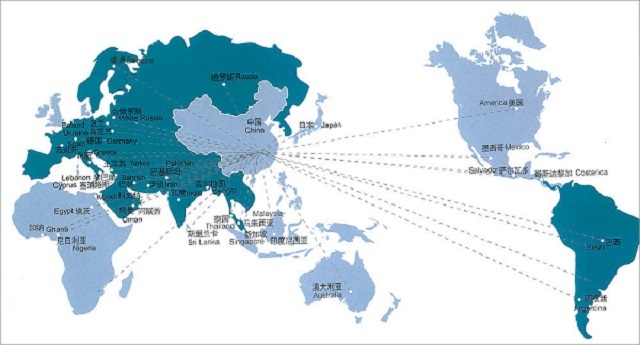 Tecera is an international company with market network in nearly more than 50 countries. Thanks to the excellent quality with competitive price, Tecera is a famous brand in mining industry, wear protection industry, ceramic industry and catalyst industry.
Mining Indury & Wear Protection Industry:
Where there is mining, there is Tecera. Tecera products are used in nearly all the world leading mining country, including America, Australia, South Africa, Russia, China, South America countries, U.K. Germany etc. In some market, Tecera enjoy the main market share , and Tecera is considered to be the quality standard of wear resistant ceramics. The outstanding success of Tecera in mining industry is given by the excellent quality, competitive price, and fast delivery time. Tecera wish to expand the business with our global partners.
Ceramic Industry:
Tecera is one of the leading player to supply alumina grinding ball and ceramic lining to the ceramic industry. Up until today, our grinding media are used in nearly every country where produce ceramic, mainly including Italy, Spain, USA, Germany, U.K. India, Turkey, Iran, Brazil, Indonesia, Viet Nam etc. Tecera is not only producing high quality alumina grinding ball, but also supply proposal to help customer reduce the milling cost. We have the experience and know-how to help customer save 15-50% of their energy cost from ball mill.With the target of all-round win, Tecera hope to establish long term business cooperation with both end user and distributor/agents.
Catalyst Industry:
Tecera is professional and strong producer of catalyst carrier and ceramic support media, we are currently supplying to some world leading chemical producer in Europe and USA, the outstanding quality of our products help us win the highest level market. Tecera is looking for agent/distributor for our Catalyst carrier and bead support media.
Products

How to find Tecera

---
How to find Tecera
Company Certificates


Tecera is an ISO9001 certificated company, Conforming the ISO9001:2008 quality management system.
---

Tecera is an ISO14001 certificated company, Conforming the ISO14001:2004 environmental management system.
---

Tecera is an OHSAS18001 certificated company, Conformin the OHSAS18001:2007occupational health & safety management system.