Installation Service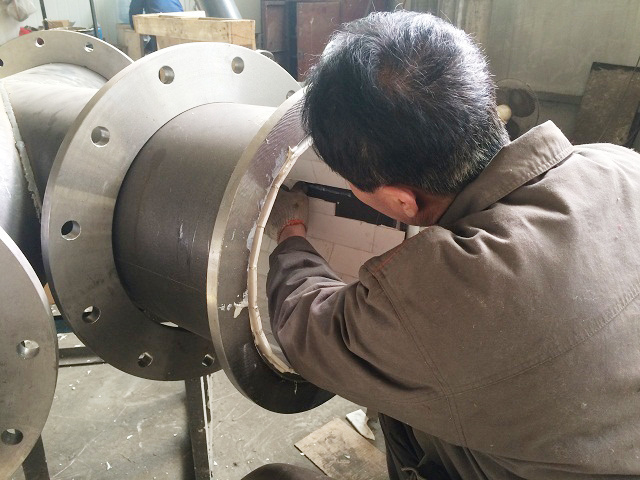 Alumina Ceramics Installation
1. Wear Protection Material Installation:
Tecera has an excellent well trained team for the installation of the wear resistant material. Thanks to the experience from the past 15 years, we are in the position to provide high quality installation service.
Since Tecera is ceramic producer, we are able to produce customized ceramic as per the design drawing of the project, this is higher efficiency and more flexible way. Thanks to more than 2000 design of the existing mold, Tecera can help customer to save tooling cost for customized ceramics. Our Tecera are full of installation equipment, we are in the position to do high standard welding and providing high strength glue for high impact and high temperature application.
Our Service Procedure as below:
(1)Customer Send drawing, mark all part which need wear protection and send the general working condition of their wear part.
(2)Tecera engineer to make the proposal according to the existing condition given by customers, and the same time, Tecera will also submit the offer accordingly.
(3)Customer confirm the the proposal and offer, or Tecera will revise the proposal according to customer's feedback until reach the agreement.
(4)Tecera will send technician to the working site and start project.
(5)Customer inspect the quality of the installation.
Ball Mill Liner Installation
2.Installation for Alumina Lining Brick for Ball Mill:
Tecera has a international installation team specializing for the ball mill liner installation. We sent our engineer to many countries like Viet Nam, India, Indonesia etc for ball mill liner installation regular. Tecera can help you install the liner with high efficiency and low cost.
Products

How to find Tecera

---
How to find Tecera
Company Certificates


Tecera is an ISO9001 certificated company, Conforming the ISO9001:2008 quality management system.
---

Tecera is an ISO14001 certificated company, Conforming the ISO14001:2004 environmental management system.
---

Tecera is an OHSAS18001 certificated company, Conformin the OHSAS18001:2007occupational health & safety management system.